Newsletter - August 16, 2022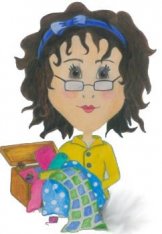 SHARYNN'S QUILT BOX
890 S. STATE STREET
P.O. BOX 1041
NORTH VERNON, IN 47265
812-346-4731
August 16, 2022
STORE HOURS:
CLOSED SUNDAY AND MONDAY
OPEN TUESDAY THRU FRIDAY 10-4
SATURDAY 10-2
Heard a song the other day and the lyrics struck me square between the eyes. The lyrics were about the days getting shorter and the nights getting longer. I think it was a song from the '70s or '80s. And the days are getting shorter (in more ways than one!) I'm not sure where the summer went but it sure went fast! Like that little red sports car!! Maybe you are looking forward to fall weather and cooler temps. The cooler weather always makes me want to sew and get my projects done.
A reminder that we will be closed on September 3rd for the Labor Day Holiday Weekend. We will reopen on Tuesday, September 6th at 10 a.m.
Please note our store hours in the heading of this newsletter. Google is saying that we are open until 5 p.m. We changed our hours with COVID. And we are continuing with these hours at the present.
We have received Christmas fabrics from Quilting Treasures and the line of fabrics is Lavish Poinsettias. These fabrics are lush reds and greens and would make wonderful Christmas décor.
We have also received Wilmington Prints new line Rosewood Lane! We have 7 bolts in the line along with panels and they are beautiful! Pictures will be posted on Facebook. We can't wait to see what you create with this fabric. Please be sure to like and share!
We still have panels on sale…25% off. We still have a good selection. These make wonderful, fast, quilts for gifts. Christmas is coming!!
Are you thinking of getting a new sewing machine?? We have the Skyline Series and these are great machines. We have the Skyline 9 which is an embroidery/sewing machine with 250 built-in designs. This machine comes with design transfer via WI-FI, USB, and direct PC connection. This machine is a great one if you are just starting to do embroidery using a machine.
We have the Skyline S7 and S6 both of which are sewing only machines. Both of these machines have top of the line features that you will only find on more expensive models.
Be sure to come in and "test drive" one or all three! Also remember that we service what we sell and we provide support in the form of a class to help you learn your machine. Be sure to check out these great machines.
Darrell has a Moxie Longarm that is a demo and he wants to sell quickly to make room for another machine!! Are you ready for a Longarm?? He says he'll make you a deal you can't pass up! Come see him.
For the ladies who are participating in the Small Quilt Challenge….Valerie Robinson will be here on September 10th at 10 a.m. to check on our progress. So if you have your project finished, in progress or still thinking about what you want to do, plan to be here for this class. Your finished project should be done by October 8th.
Remember that our website is always open and we ship next day (unless ordered over the weekend). Check out our Facebook page and like and share! Thanks to you we are growing!