Newsletter - August 30, 2022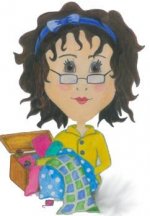 SHARYNN'S QUILT BOX
890 S. STATE STREET
P.O. BOX 1041
NORTH VERNON, IN 47265
812-346-4731
August 30, 2022
STORE HOURS:
CLOSED ON SUNDAY AND MONDAY
OPEN TUESDAY THRU FRIDAY 10-4
SATURDAY 10-2
NOTICE: We will be closed Saturday, September 3rd for the Labor Day Holiday weekend. We will reopen on Tuesday, September 6th at 10 a.m.
Sharynn wants to thank everyone for their thoughts, prayers, and concerns for her after her surgery. She is recovering very well and is at home. Please keep her in your prayers as she continues to recover.
Officially, summer isn't over until September 22nd. But Labor Day pretty much signals the beginning of fall. Now when you begin to change your décor to fall don't forget that you can always make new table runners, table toppers and throws that will make your home look "fresh". We have lots of patterns and beautiful fabrics for those changes. Lots of oranges, yellows, dark greens, browns, and ivories will make fall come alive for your home.
And maybe your sewing machine hasn't been used for a while…well, Bessie might need to be serviced to bring her up to tip top shape. We are an exclusive Janome Dealer and service all Janome machines.
UP-COMING EVENTS:
September 10th at 9 a.m. Sharynn's Stitching Friends meeting here in our classroom. Don't forget Show 'n' Tell. And for all who are participating in the Small Challenge Quilts…Valeria Robinson will be here at 10 a.m. Please bring your project…no matter what you have done. Even if you only have an idea! She's here to help.
September 23rd & 24th our In-Shop Retreat. We are looking forward to hosting everyone and having a great time.
Remember that our website www.sharynns.com is open 24/7 for your shopping pleasure! We usually ship the same day. You can also call and we can take your order over the phone.
Check out our Facebook page for all updates. Like and share our page please.