Newsletter - September 20, 2022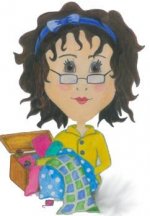 SHARYNN'S QUILT BOX
890 S. STATE STREET
P.O. BOX 1041
NORTH VERNON, IN 47265
812-346-4731
September 20, 2022
email sharynn@frontier.com
STORE HOURS:
CLOSED SUNDAY AND MONDAY
OPEN TUESDAY THRU FRIDAY 10-4
SATURDAY 10-2
Fall officially begins on Thursday, the 22nd. We have lots of fall fabrics along with Christmas fabrics for those projects you want to do.
With the cooler weather, we turn our attention to projects to keep us warmer. At our house we play the game about how long can we go before we turn on the heat! So we bundle up in blankets, sweaters, etc. to keep warm. We carry Insul-Bright insulated lining. This product can be used for any number of projects. You can line jackets, vests, slippers, mattress covers. It can be used for outdoor stadium blankets, cushions, hot pads and oven mitts. This product cannot be put in the microwave. It has lots of household uses. And it is machine washable and dryable.
Our In-Shop Retreat begins this Friday morning at 9 a.m. If you signed up, you should have received a letter giving you specifics. If you have any questions, please call the store. We are looking forward to seeing every one for a great 2 days of sewing and fun!
We have received notification of the 4 County Holiday Shop Hop. The dates will be December 1, 2, & 3, 2022. The theme this year is Jingle All the Way! Passports will be $5.00 whether purchased before or after the Shop Hop begins. We DO NOT have the passports at this time but want you to reserve the dates.
Sharynn's Stitching Friends meeting is October 8th at 9 a.m. here in our classroom. Don't forget Show 'n' Tell! We always love to see what you have been working on!
Thank you for your patience and understanding regarding service on sewing machines. Sharynn is recovering very well and wants to thank everyone for all your thoughts, prayers and concern during her recovery.
Don't forget that our website www.sharynns.com is open 24/7 for your shopping pleasure. We usually ship the same day.