Newsletter - September 27, 2022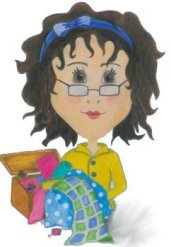 SHARYNN'S QUILT BOX
890 S. STATE STREET
P.O. BOX 1041
NORTH VERNON, IN 47265
812-346-4731
September 27, 2022
email sharynn@frontier.com
STORE HOURS:
CLOSED SUNDAY AND MONDAY
OPEN TUESDAY THRU FRIDAY 10-4
SATURDAY 10-2
Last Friday and Saturday we had Sharynn's In Shop Retreat. The gals began arriving early and were anxious to get started. There was lots of sewing, projects were started and some even got finished! We had a lot of laughs and we enjoyed it so much that we are going to be doing another the last of January or first of February. This will be our Cabin Fever Retreat! Keep this in mind and we'll have more information later. Thanks again to everyone who came.
Check out our Facebook page for pictures of Show 'n' Tell from our Retreat. Almost everyone showed something. It's so much fun to see everyone's projects come together.
Sharynn's Quilting Friends will meet on October 8th at 9 a.m. After this meeting, Valerie Robinson will be here for the last session on the Small Quilt Challenge. So please plan to bring in your project if you participated in this challenge.
We have received some new patterns. One is for the Ultimate Travel Bag 2.0. This pattern is by annie.com. This bag would make a very nice gift for the traveler at Christmas. It is Carry-on compliant. Another new pattern that would make great Christmas gifts is the All-in-One Pattern for aprons for adults or children. It's always nice to have a new apron and there are two different types of pockets for the aprons. That man in your life who barbecues would probably love a new apron. To "initiate" children into cooking, an apron just for them is perfect. These are fast and easy to make.
We have all 8 of the 3 Yard Quilt Books by Donna Robertson and Fran Morgan. These are very popular books because they are fast and on a beginner level. These also make fast and easy gifts for that special new baby or someone who is home bound and just needs a small quilt to wrap up in. All of these books have easy to follow pattern instructions for lap, twin and queen/king quilts. Plus they give you a website to help you to cut your fabric using the most economical method.
We still have panels on sale for 25% off. Come in and check them out!
Our website www.sharynns.com is open 24/7 for your shopping pleasure. Check it out and save on gas. We ship usually ship same day of order.