Newsletter - October 4, 2022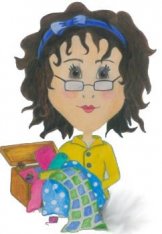 SHARYNN'S QUILT BOX
890 S. STATE STREET
P.O. BOX 1041
NORTH VERNON, IN 47265
812-346-4731
October 4, 2022
email sharynn@frontier.com
STORE HOURS:
CLOSED SUNDAY AND MONDAY
OPERN TUESDAY THRU FRIDAY 10-4
SATURDAY 10-2
Sharynn would like to take this opportunity to thank everyone for the cards, well wishes, thoughts and prayers during her surgery and recovery. She is doing very and is back at work!! And we are so happy to have her back in the shop. Stop in and say hello!
With cooler weather moving in, most of us will turn our attention to indoor activities. Now if you are "die hard" you didn't close the door on your sewing room for the summer but some did. Bessie might need to have a Spa day with us to get her in tip-top running condition for all those fall and Christmas projects that you have planned. Please remember that we don't have spa services for Husqvarna, Viking, Bernina, Brother, Pfaff or Baby Lock machines.
UPCOMING EVENTS:
Sharynn's Stitching Friends – Saturday, October 8th at 9 a.m. here in our classroom. We are looking forward to seeing everyone and don't forget show 'n' tell.
Immediately following the meeting, Valerie Robinson will be here for the final "class" on the Small Challenge Quilts. Please bring your finished (or what you have started) project!
We have received Wilmington's new line of fabrics "Among the Branches" by Susan Winget. We have posted pictures on Facebook of the fabrics in the line. There is a panel that goes with this line of fabrics and we have a pattern for a quilt. With a panel, it is fast and easy to make a quilt as a gift. You can also buy extra panels and make pillow shams to go with the quilt. This fabric is so beautiful, you have to see this in person to appreciate. So come in a take a peek.
Attention all Handi-Quilter Pro-Stitcher owners….mark your calendar…Harriet Carpanini, a Handi-Quilter Educator will be here on November 12th and teach classes on Pro-Stitcher. Harriet has been a Handi-Quilter Educator since 2007. She has taught all over the world. She has a very successful business and has written a book "Inside the Shell" which features creative fills for clamshell quilting. She has also been published in McCall's magazine "Heritage Quilts Made Modern". This class will cover everything from A to Z on what you need to know about Pro-Stitcher! Class fee will be $45.00 and this will cover both sessions. More details will be forthcoming.
Our website www.sharynns.com is open 24/7 for your shopping pleasure. Just come as you are!! We usually ship same day as order comes in.
Check out our Facebook page Sharynn's Quilt Box for pictures of new and current fabrics, notions, patterns and books.