Newsletter - October 11, 2022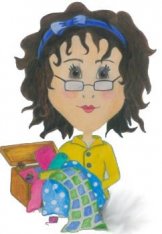 SHARYNN'S QUILT BOX
890 S. STATE STREET
P.O. BOX 1041
NORTH VERNON, IN 47265
812-346-4731
October 11, 2022
email sharynn@frontier.com
STORE HOURS:
CLOSED SUNDAY AND MONDAY
OPEN TUESDAY THRU FRIDAY 10-4
SATURDAY 10-2
Someone told me the other day that there are only 10 weeks until Christmas! I had to go look at a calendar! It is amazing to think that this year is winding down. Are you working on Fall, Thanksgiving, or Christmas projects? It seems that I have several "irons in the fire" and I'm trying to keep up. I'm using panels for some projects and that seems to go much faster. We have the Vintage Camper panel that is a sewing machine cover or you can make a tote bag with it. These make great gifts for anyone who sews and camps. We also have other panels that would make cute quilts for children or for that loved one who is in a nursing home or rehabbing at home. They also make great blankets to wrap up in on a cold winter night. And those days are coming! Come in and check out what we have. We have some panels still on 25% off! Great savings!
Attention all Handi-Quilter Pro-Stitcher owners…..mark your calendar for November 12th. Harriet Carpanini will teach classes on Pro-Stitcher. Harriet has been a Handi-Quilter Educator since 2007. She has taught all over the world. As you know quilters all speak the same language! She has a very successful business and has written a book "Inside the Shell" which features creative fills for clamshell quilting. She has also been published in McCall's magazine "Heritage Quilts Made Modern". This class will cover everything from A to Z on what you need to know about Pro-Stitcher! Class fee is $45.00 payable in cash or by check. We do not take credit/debit cards for class. Sorry for the inconvenience.
Put these dates on your calendar….December 1, 2, & 3 for the 7th Annual Four County Holiday Shop Hop, Jingle all the Way! Passports are on sale now for $5.00 and will $5.00 throughout the Shop Hop.
The Four Shops are: Tree City Stitches in Decatur County, The Quilter's Nook in Ripley County, L & L Yard Goods in Jefferson County and Sharynn's Quilt Box in Jennings County. The hours are 9-5 each day. There are lots of prizes and of course lots of projects! So be sure to save the dates! Please remember that for passports we do not take credit/debit cards..only cash or check. Thank you for your understanding.
Another date to put on your calendar is November 12th. This is Sharynn's Stitching Friends Club meeting day. We will need a final count for the December 10th breakfast and meeting. This is our annual celebrations of YOU! So be sure to let us know if you will be attending this breakfast meeting if you are unable to attend the November meeting.
Remember…..our website www.sharynns.com is open 24/7 for your shopping pleasure. We usually ship same day!