Newsletter - October 18, 2022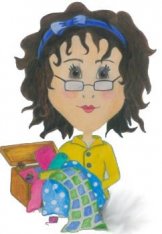 SHARYNN'S QUILT BOX
890 S. STATE STREET
P.O. BOX 1041
NORTH VERNON, IN 47265
812-346-4731
October 18, 2022
email sharynn@frontier.com
STORE HOURS:
CLOSED SUNDAY AND MONDAY
OPEN TUESDAY THRU FRIDAY 10-4
SATURDAY 10-2
It's only the middle of October. It's cold and windy and that puts me into the mood to work in my sewing room. I could be a bear during the winter…hibernate and sew! I'm working on UFOs from years ago. What are you working on?
We are having trouble with Facebook…we think we have been cloned! Update..we were able to post pictures from our Club meeting a week ago and from the last 2 classes we had. We were unable to acknowledge each person. Sorry. We are still working on this mess!
Attention all Handi-Quilter Pro-Stitcher owners…..mark your calendar for November 12th. Harriet Carpanini will teach classes on the Pro-Stitcher here at Sharynn's Quilt Box. Harriet has been a Handi-Quilter Educator since 2007. She has taught all over the world and is very knowledgeable. This class will cover everything from A to Z on what you need to know about Pro-Stitcher! This is an all-day class. The first session is from 9 a.m. to 12 noon. The 2nd session is from 1 p.m. to 4 p.m. Class fee is $45.00 payable in cash or check. We do not take credit/debit cards for classes. Sorry for the inconvenience. If you have questions, please call the shop.
Another Handi-Quilter Class will be held November 22nd here at Sharynn's with Martha Higdon. Martha will cover Free-Motion quilting from 9-12 noon and Rulers from 1-4 p.m. Martha began quilting when she decided to finish a quilt top given to her by her grandmother. She took to machine quilting and never looked back. Martha loves spreading her enthusiasm & joy to others to inspire them in their quilting. This class is $45.00 and is payable in cash or check. Call the shop to sign up!
We are gearing up for the 7th Annual Four County Holiday Shop Hop, Jingle All the Way to be held December 1, 2, & 3, 2022. Passports are on sale now for $5.00 and will be $5.00 thru out the Hop. Please remember that when purchasing a passport, we take only cash or check. No credit/debit cards. Thank you for understanding. There are 4 shops: Tree City Stitches, Decatur County, The Quilter's Nook, Ripley County, L & L Yard Goods, Jefferson County and Sharynn's Quilt Box, Jennings County. The hours are 9-5 each day. There are lots of prizes and of course projects for gift giving for that special quilter on your list. Be sure to save the dates!
Remember….our website www.sharynns.com is open 24/7 for your shopping pleasure. We usually ship the same day!