Newsletter - November 1, 2022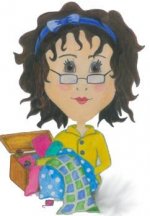 SHARYNN'S QUILT BOX
890 S. STATE STREET
P.O. BOX 1041
NORTH VERNON, IN 47265
812-346-4731
November 1, 2022
email at sharynn@frontier.com
STORE HOURS:
CLOSED SUNDAY AND MONDAY
OPEN TUESDAY THRU FRIDAY 10-4
SATURDAY 10-2
Some info on upcoming events…..
November 12th: we have two events going on that day. We will host our Sharynn's Stitching Friends and a Handi-Quilter Class with Harriet Carpanini. As these events will overlap we are asking that all of Sharynn's Stitching Friends please use the front door and all class members please use the back door. This will help with the "flow of traffic!"
Our Stitching Friends meeting will be moved downstairs so it will be more convenient for you to use the front door.
Both events begin at 9 a.m. and doors will be unlocked at 8:30a.m.
A reminder to all who signed up for the Handi-Quilter class; if you have not sent your check please do so ASAP. Send to our P.O. Box 1041. The class must be paid for before the day of the class. Please bring your tablet/computer, a notebook and pen.
For our Stitching Friends….we will need to know at the November 12th meeting if you will be able to attend the Christmas Breakfast on December 10th. And if you plan to participate in the Quilt Challenge for January, you will receive all the "rules" at the November meeting. The Challenge begins on January 1st! This will be a fun one!
If you are not a member of Sharynn's Stitching Friends, you can join for 2023 beginning in December. Dues are $15.00 per year. Come and join us for some great fun and fellowship.
We realize that this is a bit early but Sharynn's will be closed November 24th thru 28th for the Thanksgiving Holidays. We will reopen on November 29th at 10 a.m.
Do you have your passport for the 7th Annual 4 County Holiday Shop Hop??? We are just 4 weeks away and you don't want to miss this one! It's so much fun. The theme this year is "Jingle All The Way"! The dates are December 1, 2, & 3 and the times are 9-5 each day. We will share more information in the coming weeks. Just don't forget to get your passport!
Participating Shops are: Tree City Stitches, Greensburg, IN; The Quilter's Nook, Versailles, IN; Sharynn's Quilt Box, North Vernon, IN; and L & L Yard Goods, Madison, IN.
There are lots of prizes and a discount on one regular priced item at each shop. This can be a book, pattern, notion or a cut of fabric. So come and join us for some Christmas fun!
Don't forget that our website is open 24/7 for your shopping pleasure. Check out our Facebook page and like and share our posts.