Newsletter - November 8, 2022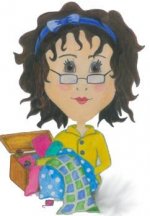 SHARYNN'S QUILT BOX
890 S. STATE STREET
P.O. BOX 1041
NORTH VERNON, IN 47265
812-346-4731
November 8, 2022
email @ sharynn@frontier.com
STORE HOURS:
CLOSED SUNDAY AND MONDAY
OPEN TUESDAY THRU FRIDAY 10-4
SATURDAY 10-2
This Saturday, November 12th we are hosting two events here at Sharynn's. Our Sharynn's Stitching Friends will meet in the store downstairs at 9 a.m. The Handi-Quilter Class will meet upstairs at 9 a.m. with Harriet Carpanini. As these events overlap we are asking that all Sharynn's Stitching Friends to PLEASE use the front door to enter the store. All Handi-Quilter Class members PLEASE use the back door to enter the classroom. This will help with the flow of traffic!
The doors will be unlocked at 8:30 a.m. and both events will begin at 9 a.m.
Handi-Quilter class members please bring your tablet/computer, a notebook and pen.
Sharynn's Stitching Friends…..we will need to know at the November 12th meeting if you will be attending the Christmas Breakfast on December 10th. We will also be taking sign-ups for the new quilt challenge and for the Cabin Fever Retreat (February 3 & 4, 2023) here in the shop. Don't forget to bring Show 'n' Tell!
The next up-coming event is Martha Higdon's Handi-Quilter Class on November 22nd. This class is full.
We will be closed November 24th thru November 28th. We will reopen on the 29th at 10 a.m.
The 7th Annual 4 County Holiday Shop Hop will be held December 1, 2, & 3, 2022. The hours are 9-5 each day. Our theme this year is "Jingle All the Way"! When you purchase a passport you will receive an Applique pattern free. Have your passport stamped at each of the 4 shops and be entered in the drawing for the Grand Prize. Each shop will have an individual gift basket drawing. You will receive an extra chance for every $20.00 you spend. Also, there will be the usual 20% off ONE regular priced item at each shop. Book, pattern, notion, kit or cut of fabric. Some exclusions may apply. Come and join in the fun!
With Christmas just 6 and ½ weeks away, if you are thinking of purchasing a new sewing machine now is the time. We have the 3160s and 4120s in stock ready to be wrapped and put under the tree! So come in and see these little gems! They are light weight and sew like a dream. Both have scissors and lots of stitches for decorative sewing. And the best part is there was no price increase!! Come in and take a look.
Be sure to check out our website; www.sharynns.com. You can shop in the comfort of your home and you can wear your pjs!
Also, be sure to like and share our Facebook page.