Newsletter - November 15, 2022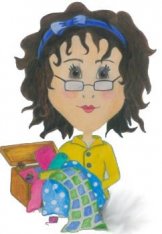 SHARYNN'S QUILT BOX
890 S. STATE STREET
P.O. BOX 1041
NORTH VERNON, IN 47265
812-346-4731
November 15, 2022
email @ sharynn@frontier.com
STORE HOURS:
CLOSED SUNDAY AND MONDAY
OPEN TUESDAY THRU FRIDAY 10-4
SATURDAY 10-2
Whee! Saturday was a whirlwind day. First the snow (we got 4") and the two events. But it was a great day with all the ladies from Sharynn's Stitching Friends and the class with Harriet Carpanini.
Martha Higdon will be here on November 22nd to teach our next Handi-Quilter class on Free Motion and Rulers. This class begins at 9 a.m. and we will open the door at 8:30 a.m. Please use the back door.
A reminder….we will be closed November 24th thru the 28th. We will re-open on November 29th at 10 a.m.
Also, we will be closing at noon on DECEMBER 23rd and will re-open on January 3rd at 10 a.m.
Have you bought your passport yet for the 4 County Holiday Shop Hop?? It will be held December 1, 2, & 3. The hours are 9-5 each day. Our theme is "Jingle all the Way". When you purchase a passport you will receive an Applique Pattern for free. Have your passport stamped at each participating shop to be in the drawing for the Grand Prize of 4 $50.00 Gift Certificates. Each shop will give away a Gift Basket valued at $100.00. You will automatically get one chance when you get your passport stamped and then for every $20.00 you spend you will receive more chances to win. You will also get 20% off of one item…book, pattern, notion, kit or one cut of fabric.
Participating shops are:
Tree City Stitches, Decatur County
The Quilter's Nook, Ripley County
L & L Yard Goods, Jefferson County
Sharynn's Quilt Box, Jennings County
Hope to see you at the Shop Hop!
If you are a member of Sharynn's Stitching Friends and have not signed up for the Christmas breakfast, please call the shop asap.
We have lots of ideas for Christmas. Including sewing machines, fabrics, notions, and what every sewer wants….a gift certificate from Sharynn's Quilt Box.
Please remember that you can shop from our website 24/7. We usually ship nest day. Also, like and share our Facebook page.