Newsletter - December 6, 2022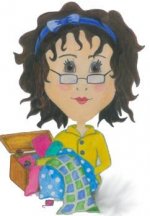 SHARYNN'S QUILT BOX
890 S. STATE STREET
P.O. BOX 1041
NORTH VERNON, IN 47265
812-346-4731
December 6, 2022
STORE HOURS:
CLOSED SUNDAY AND MONDAY
OPEN TUESDAY THRU FRIDAY 10-4
SATURDAY 10-2
A reminder…..Holiday Hours for Sharynn's Quilt Box will be 10a.m.-12 noon on December 23rd. We will be closed December 24th thru January 2nd. We will reopen January 3rd at 10 a.m.
Also, the last day to bring in a machine for service/repair is December 13th. Thank you.
We have gift certificates available in all denominations or maybe a new sewing machine? Maybe a "basket of notions"? Come in and see us. We can help you find that perfect gift for special sewist in your life.
The Shop Hop was a huge success! We saw so many friends and it's always nice to make new ones!
The winners of the individual Shop baskets are:
Tree City: Donna Kingsbury
The Quilter's Nook: Carol Gavins
Sharynn's Quilt Box: Ron Albrecht
L & L Yard Goods: Joyce Toliver-Wilson
The Grand Prize Winner was Vickie Osman. She will receive 4 $50 Gift Certificates! Congratulations to all the winners.
This Saturday, December 10th is our Sharynn's Stitching Friends Club Annual Breakfast. This begins at 9 a.m. and the doors will be unlocked at 8:30 a.m. We are looking forward to everyone being here. Also, we will have sign-ups for 2023. If you want to join in the club Challenge, now is the time to sign up as it begins in January.
If you are not a member of SSFC, you can come in and sign up for next year. Dues are $15.00 for the year. We meet on the 2nd Saturday of each month at 9 a.m. There are always "treats", coffee & tea. Great show 'n' tell and always lots of laughs! So come and join in the fun.
Just in time for Christmas…..we are again having Sophia's Project! These are bags of scrap fabric for $2.00 each and ALL the money realized from the sale of these bags will go to help Mercy Rescue & Adoption. So stop in and grab up several bags and help a worthy cause. If you don't need or want a scrap bag, just donate some money to help them help the animals. They do a wonderful job.
Our website www.sharynns.com is open 24/7 for your shopping pleasure. Please remember that no one will be in the shop between December 24th and January 2nd. So no orders will be shipped until after January 3rd.