Newsletter - December 21, 2022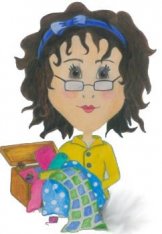 SHARYNN'S QUILT BOX
890 S. STATE STREET
P.O. BOX 1041
NORTH VERNON, IN 47265
812-346-4731
December 21, 2022
STORE HOURS:
CLOSED SUNDAY AND MONDAY
OPEN TUESDAY THRU FRIDAY 10-4
SATURDAY 10-2
Winter begins today and we've been told that it is going to blast us! With that in mind, Sharynn has made the decision to close on Friday, December 23rd due to pending weather. We are sorry for any inconvenience this may cause. Please stay safe and warm. We will be open tomorrow (Thursday) from 10-4 but closed Friday, December 23rd until January 2nd and we will reopen January 3rd at 10a.m.
Thank you to everyone for picking up your machines in a timely manner. We will be taking machines in for service again beginning January 3rd.
Sharynn's Stitching Friends will meet on January 14th at 9 a.m. here in our classroom. We always welcome new members and would love for you to join us. Dues are $15.00 for the year. Dues can be paid at the first meeting.
Don't forget to use your 20% off coupon from the Holiday Shop Hop. It expires January 31st.
We here at Sharynn's want to thank you all for your business this past year and all the years before. YOU are what fuels our small business. We want to wish you a very Merry Christmas and Happy and Prosperous New Year.
Be sure to check our Facebook page for all our latest information. Like and share.
Sharynn, Darrell, Cathy, Gail, & Pat. Of course, Sophia too!!