Newsletter - January 10, 2023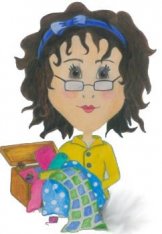 SHARYNN'S QUILT BOX
890 S. STATE STREET
P.O. BOX 1041
NORTH VERNON, IN 47265
812-346-4731
January 10, 2023
email@sharynn@g.mail.com
STORE HOURS:
CLOSED SUNDAY AND MONDAY
OPEN TUESDAY THRU FRIDAY 10-4
SATURDAY 10-2
Are you using this time of year to start or finish sewing or crafting projects, plan your spring and summer garden, clean out your sewing room, closets or just read a good book? Or some of each one?! We had some awful weather in December but so far January is going OK. In fact, I was standing in my "gardens" the other day and dreaming of all the flowers I want to get and plant. On the same day I was moving boxes out of my sewing room in prep to paint and add some storage. It's never ending isn't it? But so much fun so enjoy!! If you have gotten some projects finished, bring them in for us to see. We love to see what you are working on.
A reminder…..Sharynn's Stitching Friends will meet this Saturday, January 14th at 9 a.m. here in our classroom. Don't forget show 'n' tell.
Just before Christmas we put out about 30 mystery bags of fabrics to sell for "Sophia's Project". These bags were gone in 2 days! All the monies from the sale of these bags go to Mercy Rescue Adoption. We have found more fabric "scraps" and have put more bags out for sale. This is Sophia's favorite charity! So let's help her give to the doggies and kitties needing help. Come in and buy several bags. They make great scrap quilts.
On February 3 & 4, we are going to do a "Cabin Fever Retreat" here in the shop. You can come and sew from 9 a.m. to 9 p.m. on Friday and 9 a.m. to 3 p.m. on Saturday. You can work on any project you want to get done. We will have specials thru out the days on store merchandise and Show 'n' Tell on Saturday afternoon. We have so much fun. Call the shop for more details. Our space is limited so make your reservations early.
You can shop in the comfort of your living room from our website! We are open 24/7 and usually ship next day.
Follow us on Facebook. Like and share our posts!