Newsletter - January 17, 2023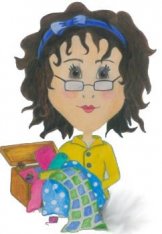 SHARYNN'S QUILT BOX
890 S. STATE STREET
P.O. BOX 1041
NORTH VERNON, IN 47265
812-346-4731
January 17, 2023
STORE HOURS:
CLOSED SUNDAY AND MONDAY
OPEN TUESDAY THRU FRIDAY 10-4
SATURDAY 10-2
We had a wonderful Club meeting on Saturday. We welcomed four new ladies to our club. You can join us any time, we would love for you to be a part of our group. Our Initial Challenge began on January 1st but you could join us any time. Our February meeting is on the 11th at 9a.m. in our classroom. Come and join in the fun! Club Ladies, don't forget to use your coupon. It is good until January 31st!
Our Cabin Fever Retreat will be February 3 & 4 here in our classroom. We will begin at 9 a.m. and you can sew until 9 p.m. on Friday. Saturday we will begin at 9 a.m. and close at 3 p.m. We will do Show 'n' Tell after lunch on Saturday. Call the shop for more details. Spots are going fast!
We are working on our quilt for the "Swing Into Spring" Shop Hop formally the "Charming Shop Hop". The dates are the same April 5, 6, 7, & 8 and the hours will be 9-5 at each shop. The fabric we are using is Wilmington Dry Brush. Each shop will have a different color. We think you are going to love this new format. Please mark your calendar for these dates. Passports will be available soon.
Have you been thinking about a Long-Arm Quilt Machine? Santa forgot it?! Well, Darrell has two floor models….an Amara 20" and a Simply Sixteen. Come in and let Darrell show you how easy they are to operate and easy to own. Check out our Facebook page.