Newsletter - January 31, 2023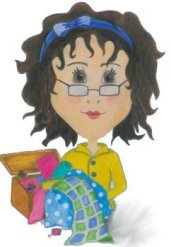 SHARYNN'S QUILT BOX
890 S. STATE STREET
P.O. BOX 1041
NORTH VERNON, IN 47265
812-346-4731
January 31, 2023
STORE HOUR:
CLOSED SUNDAY AND MONDAY
OPEN TUESDAY THRU FRIDAY 10-4
SATURDAY 10-2
I saw a poem about January being 600 days long and I must admit that sometimes it seems like it is that long! But here we are at the end and looking into February. There are signs of spring in my garden with daffodils peeking out of the ground to test the weather. Warm weather will be here soon at least that's what I tell myself!
We are going to get started with some announcements…Snippy Jim (Stohr) will be here Friday morning February 3rd from 9-10 a.m. only to sharpen scissors, all kinds and anything that needs sharpening. So if you need "things" sharpened this is your opportunity. Remember he will only be one hour.
We will be holding our Cabin Fever Retreat this Friday and Saturday. We are really looking forward to this retreat. We will sew from 9 a.m. to 9 p.m. on Friday and from 9 a.m. to 3 p.m. on Saturday. We are excited to get to sew with you gals! Don't forget your foot control and power cord! We'll have 2 large irons and ironing boards set up for your use and one large cutting mat. But please try to have everything cut before you come so that you can get your project finished!
Sharynn's Stitching Friends will meet on Saturday, February 11th at 9 a.m. here in our classroom. We'll have refreshments, show 'n' tell and some specials just for members. You can still join..just come in and sign up. It's $15.00 for the year and we have lots of fun and we exchange ideas and tips.
We had such great success with our 3 yard Mystery bags at Christmas that we have done it again. Only this time it isn't Christmas fabrics. There are 3 one yard pieces (all coordinate) in a bag! You can make a throw, a small quilt, lap quilt, wall hanging, etc. We have a limited supply so get yours early!
We also have some ½ pound scrap bags for sale at $5.00 each. Get 'em while they last!
Don't forget to mark your calendars for April 5, 6, 7, & 8, 2023 for our Swing Into Spring Shop Hop (formerly the Charming Shop Hop). We don't have passports as yet but we will post on our Facebook page and of course here when they go on sale. The shops are the same but we have added The Little Golden Fox in Madison. We are looking forward to this shop hop!
Remember that our website is open 24/7 for your shopping pleasure! Check out our Facebook page. Like and share our posts!