Newsletter - February 21, 2023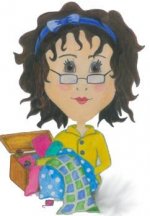 SHARYNN'S QUILT BOX
890 S. STATE STREET
P.O. BOX 1041
NORTH VERNON, IN 47265
812-346-4731
February 21, 2023
STORE HOURS:
CLOSED SUNDAY AND MONDAY
OPEN TUESDAY THRU FRIDAY 10-4
SATURDAY 10-2
March is on the way so Spring can't be far behind! We will begin Sit 'n' Sew again on March 8th! We are excited to start again. Times will be 10:30 to 3 p.m. And we will have it every other Wednesday. We hope you will join us. There is no charge for this! Just come and sew with us.
We have received more Twin and Double size batting from Dream Poly. We especially like this batting for all quilting. It works great for hand, machine, or longarm.
We are just about a month away from our Handi-Quilter Classes with Martha Higdon, Educator. She will present Exploring Pro-Stitcher in Simulation on Thursday, March 30th. This is an all-day class with a 1 hour break for lunch. Pro-Stitcher is an intuitive computer-guided quilting system designed especially for use with Handi-Quilter longarm quilting machines. It is user friendly and simple to operate, the step-by-step process for each function is easy and fun. Whether finishing your own quilts or considering a quilting business, come see the elegant and precise quilting you can accomplish with Pro-Stitcher. The cost for this class is $45.00 payable by check or cash. This is NOT refundable.
On Friday, March 31st, Martha will present Free Motion Quilting Foundations from 9a.m. to 12 noon. This class is for quilters everywhere who love the excitement and fun of Free-Motion Quilting—and it easier than you think!
Create flowing designs by connecting simple design elements with continuous lines, traveling across the quilt or filling in a specific area. Learn how drawing and muscle memory contribute to beautiful free motion quilting and how you can create stunning designs.
Customizing your Free Motion Foundations – 1 p.m. to 4 p.m.
Blocks, backgrounds, sashings and borders – these are the basic components of many pieced quilt tops and there are tricks to quilting them with a cohesive overall look, while creating your own personal style. Learn how to select and adapt designs to complement each area and how to accomplish the quilting efficiently and easily. Tried and true fillers and "go-to" designs will be featured.
Cost of this class is $45.00 payable by check or cash. This is NOT refundable.
We still have several Mystery Bags of Fabrics. These bags have three 1 yard pieces of fabrics that coordinate. These will make a lap quilt, throw, or just fun pieces to coordinate with other fabrics. Come and get yours before they are gone!
Check out our Facebook page for updates. Like and share our posts!