Newsletter - March 7, 2023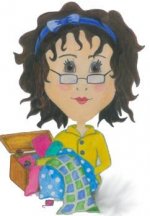 SHARYNN'S QUILT BOX
890 S. STATE STREET
P.O. BOX 1041
NORTH VERNON, IN 47265
812-346-4731
MARCH 7, 2023
STORE HOURS:
CLOSED SUNDAY AND MONDAY
OPEN TUESDAY THRU FRIDAY 10-4
SATURDAY 10-2
We are about 12 days from the beginning of Spring! Our tulips and daffodils are up and blooming! We are so anxious for warmer weather and getting outside. We still have time before we can really be outside a lot so we need to start the spring projects. We have some beautiful spring pastels for table toppers and table runners or place mats and napkins for Easter. These beautiful pastels are from Blank would make wonderful table decorations. Be sure to come in and see them in person. We will be posting them on Facebook again.
Sharynn's Stitching Friends will meet this Saturday, March 11 at 9 a.m. here in our classroom. Remember to bring Show 'n' Tell. There will be snacks and drinks. Also, please remember that the April meeting will be April 1st due to the Swing into Spring Shop Hop the next week. And we hope you are planning to go on the Shop Hop. It'll be lots of fun.
Speaking of the Shop Hop….have you gotten your passport yet? They are available here in our shop for $5.00. You will receive a magnet when you purchase your passport. At each shop when you have your passport stamped you will receive another magnet. Each shop will feature a different Wilmington Dry Brush fabric in their project. We have lots of new and different things going on. There are lots of prizes and goodies at each shop. So be sure to get in and get your passport. The dates are April 5, 6, 7, & 8. The hours are 9-5 at each shop regardless of the regular store hours. You don't want to miss out!
Did you see the newest Handi-Quilter? The New 20" AmaraST sit down/stand up model? This is an awesome machine that you have to see to appreciate. The table is hydraulic and raises or lowers to your specifications! Come in and give her a test drive. It's not huge so not a lot of space needed for this baby!
Martha Higdon, Handi-Quilter Educator will be teaching classes here in our classroom on March 30th and 31st. Thursday will be Pro-Stitcher with sessions in both the morning and afternoon. Friday classes will be Free Motion.
Thursday class will be all day on Pro-Stitcher. The first session will be from 9 a.m. to 12 noon. We will resume at 1 p.m. and finish by 4 p.m. With Pro-Stitcher you can accomplish precise quilting that is elegant, fun and easy.
Friday will be Free Motion Quilting Foundations from 9 to Noon. You will learn to create flowing designs with continuous lines that will travel across your quilt.
The afternoon session (1-4 pm) will be basic components of many pieced quilt tops. There are tricks to quilting them while creating your own personal style.
Please come in to reserve your spot! Seating is limited. Each day is $45.00 payable in cash or by check. Sorry we are not able to take Credit/Debit cards for classes and it is non-refundable.
We have a full stock of all sizes of Dream Poly Quilt Batting from crib size to king size!
Our website is open 24 /7 for your shopping pleasure. We usually ship within 24 hours of placing an order. Also, check out our Facebook page and like and share. Thank you so much. As a small business we rely on our customers to spread the word about our shop. Thank you so much for your support.