Skip Navigation
Website Accessibility
Newletter - March 21, 2023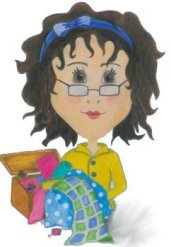 SHARYNN'S QUILT BOX
890 S. STATE STREET
P.O. BOX 1041
NORTH VERNON, IN 47265
812-346-4731
March 21, 2023
STORE HOURS:
CLOSED SUNDAY AND MONDAY
OPEN TUESDAY THRU FRIDAY 10-4
SATURDAY 10-2
We are so ready for spring and warm weather, flowers, green grass, etc. Are you? We have some luscious fabric from Wilmington in beautiful greens, pinks, & blues with floral designs from designer Susan Winget. It's called Among the Branches. There is a panel and a pattern using the panel. This is just perfect to "perk" up your spring décor.
We are putting finishing touches on everything for the Swing into Spring Shop Hop. The dates are April 5, 6, 7, & 8 and each shop will be open 9-5 each day regardless of their regular hours. Passports are still available for $5.00 so get yours now! When you purchase a passport you will receive a Swing into Spring magnet. At each shop when you get your passport stamped you will receive another magnet. We have lots of prizes up for grabs. Visit each shop and get your passport stamped and you will be entered in the drawing for a Janome 3160QDC sewing machine and there are other prizes and gift certificates for each shop. Each shop will give away a basket of goodies too! Please remember that you must be present to have your passport validated and you must pick up your prize in person. We cannot ship!
Shops on the Shop Hop are:
1) Tree City Stitches – Greensburg, IN
2) Sharynn's Quilt Box – North Vernon, IN
3) Quilter's Garden – Lawrenceburg, IN
4) Quilter's Nook – Versailles, IN
5) L & L Yard Goods – Madison, IN
6) The Little Golden Fox – Madison, IN
While visiting each shop you will receive 20% off your most expensive regular priced item. Some exclusions will apply.
If you are interested in the Pro-Stitcher class with Handi-Quilter Educator, Martha Higdon, there are a few spaces still open. This class is on Thursday, March 30th from 9-12 noon and 1-4 p.m. The cost is $45.00 for all day.
The Friday Free Motion and Rulers class is now full.
We have received lots of new Wilmington Dry Brush and some colors we've not had before. Come in and see them!
A reminder…..Sharynn's Stitching Friends will meet on April 1st due to the Swing into Spring Shop Hop.
April's dates for Sit 'n' Sew are April 12th and 26th. Hours are 10:30 a.m. to 3:00 p.m. We'd love to have you come sew with us! It's free too!