Newsletter - March 28, 2023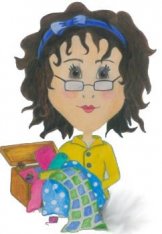 SHARYNN'S QUILT BOX
890 S. STATE STREET
P.O. BOX 1041
NORTH VERNON, IN 47265
812-346-4731
March 28, 2023
STORE HOURS:
CLOSED SUNDAY AND MONDAY
OPEN TUESDAY THRU FRIDAY 10-4
SATURDAY 10-2
We are about a week away from our SWING INTO SPRING SHOP HOP!! This is the new name for the Charming Shop Hop. We have a new shop "The Little Golden Fox" in Madison too. Passports are still available for $5.00 and will be $5.00 during the hop. If you visit each shop on the hop and have your passport stamped, you will be in the drawing for the Janome 3160QDC sewing machine. Someone's going to win it….just might be you! Lots more prizes are available too. Each shop will have a basket to give away. When you purchase your passport you will receive a custom made magnet and as you visit each shop you will receive another custom made magnet. So be sure to get your passport and grab your friends and take a day trip to six lovely quilt shops. We look forward to seeing everyone! You must be present to have your passport validated in person, no exceptions and if you win a prize you must collect that prize in person. Prizes will not be shipped. Each shop will offer a 20% discount off your most expensive regular priced book, pattern, notion, kit or 1 cut of fabric. Some exclustions may apply.
Next Saturday, April 1st we will have Sharynn's Stitching Friends. This is not our regular club date but due to the Shop Hop, we have moved it to the 1st. As usual, we will meet at 9 a.m. and be sure to bring Show 'n' Tell. We all just love to see what you have done. We get inspiration too!
Sit 'n' Sew dates for April are the 12th and 26th. Come in and sew with us. It's free and you can sew from 10:30 a.m. to 3 p.m. Just think how much you can get done!
Next week we will have all of our new Janome sewing machines on display and we are very excited for you to see some of them. We've been waiting patiently for them to come in! So come in and see what we have!
Don't forget to check out our Facebook page and like and share our posts!