Skip Navigation
Website Accessibility
Newsletter - April 11, 2023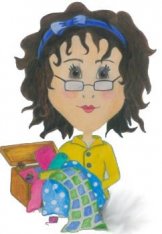 SHARYNN'S QUILT BOX
890 S. STATE STREET
P.O. BOX 1041
NORTH VERNON, IN 47265
812-346-4731
April 11, 2023
STORE HOURS:
CLOSED SUNDAY AND MONDAY
OPEN TUESDAY THRU FRIDAY 10-4
SATURDAY 10-2
We are taking a deep breath! The Swing into Spring Shop Hop was so much fun and we enjoyed seeing all of our "old" friends and making new ones. The weather wasn't very cooperative on Wednesday but plenty braved it and came out to see us all. Thank you so much to all who bought passports and visited our shop.
We want to congratulate our winners:
Pam Marrow $25.00 Gift Certificate
Marcy Clark $50.00 Gift Certificate
Dana Ochs Gift Basket
Alec Smith from Milan, IN won the Janome 3160QDC sewing machine. Congrats to him.
Becky Frasier from New Castle, KY won the Basket of Dry Brush Fat Quarters and Jean Ponsler from North Vernon, IN won the Batting Basket!
Congratulations to you all.
Drum roll please……We have received the newest Janome sewing/embroidery machine the CM17. This machine is amazing! This is one of those you have to see it to believe it machines. We put a video and pictures on our Facebook page last week but for a live demo you need to come in to see it in operation. We are all fascinated by it.
The Continental M17 has so many special features!! The Continental M17 will take you to your highest level of creativity! There are 9 ultra-bright LED lights in 4 locations. It features an A.S.R. (Accurate Stitch Regulator) for free motion quilting. It comes with Artistic Digitizer, Acufeed and QuiltBlockAdviser. It will also do ruler work. It has a 13.5" workspace to the right of the needle. It features 850 built-in stitches and a max embroidery size of 11.3"x18.2". There are 1230 built-in designs to embroider. There are more designs that are exclusive to this machine on the Janome website that were designed by Embroidery Library, Urban Threads and Sew Steady. These are awesome designs. This machine is compatible with a MacBook or PC. So we got you covered.
There are lots of videos on the Janome YouTube.com channel and of course we are here for you. Darrell has 25 years of experience servicing Janome machines. We will help you learn your machine and this applies to any machine we sell. Be sure to come in and see this machine in action or any machine we have in stock. We have more machines coming.
Remember to check out our Facebook page and like and share! Thank you!