Skip Navigation
Website Accessibility
Newsletter - April 18, 2023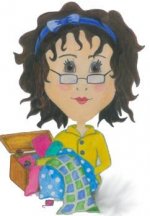 SHARYNN'S QUILT BOX
890 S. STATE STREET
P.O. BOX 1041
NORTH VERNON, IN 47265
812-346-4731
April 18, 2023
STORE HOURS:
CLOSED SUNDAY AND MONDAY
OPEN TUESDAY THRU FRIDAY 10-4
SATURDAY 10-2
Are you considering the purchase of a longarm quilting machine? Handi-Quilter Longarms are the best and are made here in the USA in North Salt Lake, Utah. Sharynn's Quilt Box has been a Handi-Quilter Dealer for 14 years. We have years of experience with these machines. We will provide you with hands on training and set up the machine for you. Your satisfaction is our number 1 priority. We are an award winning dealer. We have won the HQ WAY award every year. This award is for outstanding customer service and meeting all of the HQ requirements of shows and in store Education Classes. We carry only genuine HQ accessories and parts. We provide convenient and timely customer service. Darrell goes to classes to keep abreast of servicing all the machines HQ offers. We have several machines including the newest HQ Amara ST with hydraulic table. Darrell is very knowledgeable on all the machines and the Pro-Stitcher System. He will give you help long after the sale. So before you buy from anyone else check us out. We think you will be happy with our second to none and timely customer service. Your machine will not sit for weeks waiting to be serviced.
We now have the newest Janome sewing/embroidery/quilting machine in our shop and on the floor for demo. This machine is absolutely amazing and is fascinating to use. We haven't even "scratched the surface" of learning all that this machine will do. The embroidery part is so cool and easy to use. It has a stitch regulator for quilting. A 13.5" workspace to the right of the needle lets you work on larger sewing projects. There are 850 built-in stitches and a max embroidery size of 11.3x18.2". It comes pre-loaded with 1230 designs to embroider. And there are more designs that are exclusive to this machine on the Janome website that were designed by Embroidery Library, Urban Threads and Sew Steady. Come in for a demo and see what you can do!
Next Wednesday, April 26th is our Sit 'n' Sew Day! We have space for about 8 people. We sew from 10:30 to 3. It's free and we'd love to have you come sew with us.
May 13th is our Sharynn's Stitching Friends Club meeting. How are you doing with your challenge quilt? Don't forget that the Challenge is over in June. We are looking forward to seeing everyone's quilt.
Our Fall In-Shop Retreat is set for September 22 & 23. Our spaces are going fast. We will only have 10 spaces this year so that everyone can have more room. Several spaces are already reserved. So if you are considering coming to the retreat, please call the shop (812-346-4731) to reserve your space. We have lots of fun, sewing, and in-shop specials just for these gals. So call us and join us in September for a fun time close to home.