Skip Navigation
Website Accessibility
Newsletter - April 25, 2023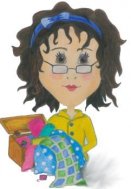 SHARYNN'S QUILT BOX
890 S. STATE STREET
P.O. BOX 1041
NORTH VERNON, IN 47265
812-346-4731
April 25, 2023
STORE HOURS:
CLOSED SUNDAY AND MONDAY
OPEN TUESDAY THRU FRIDAY 10-4
SATURDAY 10-2
Please note…..Google still lists our store in our old location and with out of date hours. Our location and store hours listed above are correct! Thank you. If you have questions, please call.
Upcoming events for May…..Sharynn's Stitching Friends will meet here at 9a.m. on Saturday, May 13th. We'd love for you to join us if you aren't now a member! So if you want to join, just come in and we'll get you started. We have lots of fun and we especially love the Show 'n' Tell. We love to see what everyone is making.
We will be closed on Saturday, May 27th in observance of Memorial Day. We will reopen on the 30th at 10 a.m. Please mark your calendar.
Please note…… we have up dated our service fees for sewing machines.
Large machines (such as Janome M7, embroidery, and embroidery/sewing machines) will be $99.95.
Smaller machines will be $84.95.
Janome Sergers will be $125.00.
Handi-Quilter Longarms will be $150.00.
If you are unsure what your machine will cost to service, please feel free to call.
We have received Studio E's "Fall into Autumn" line of fabric. This is beautiful fall fabric. Pumpkins, sunflowers, fall leaves, wonderful reds, rich golds, luscious rusts and browns, . We have a panel and placemats that make your fall projects so easy! We will be posting pictures on our Facebook page. Be sure to like and share!