Skip Navigation
Website Accessibility
Newsletter - May 9, 2023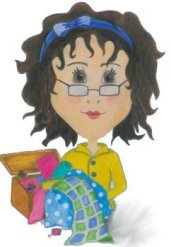 SHARYNN'S QUILT BOX
890 S. STATE STREET
P.O. BOX 1041
NORTH VERNON, IN 47265
812-346-4731
May 9, 2023
STORE HOURS:
CLOSED SUNDAY AND MONDAY
OPEN TUESDAY THRU FRIDAY 10-4
SATURDAY 10-2
We want to wish all mothers, mothers-in-law, grandmothers, step-mothers, foster mothers and anyone else who nurture children a Happy Mother's Day. If you still need a gift come in and get a gift certificate for mom, grandma, a favorite aunt, sister, or even a girlfriend. It's always the perfect size and color!
This Saturday, May 13th at 9 a.m. Sharynn's Stitching Friends will meet here in our classroom. Don't forget that the challenge quilts are due at the June meeting. Be sure to bring show 'n' tell. We love to see what you are working on! We'll have the coffee and some treats ready for you.
You've heard the saying "if you are going to do something, do it right". We totally agree. And that applies to everything you do. You buy quality fabric to make a quilt. Some times that is several hundred dollars. You make sure that your machine is in tip-top shape. You cut out the pieces of the quilt and begin to sew them together. Now, what kind of thread are you using? Are you using a quality thread? Most of us don't think about the thread that we use. But thread is very important besides the obvious! You want a strong thread that is going to last a life time. You want a low lint thread that won't leave a lot of lint in your sewing machine. We carry Omni thread on cones and Signature cotton thread in both 40 wt and 50 wt. Omni thread is very strong Polyester. Most longarmers use this Omni thread for their longarm machines. It is very low lint and doesn't "gum" up your machine. The Signature Cotton thread is also very low lint and it isn't waxed. Check your thread to make sure you are using the best quality thread on the market. Using good quality thread also saves your machine. Less quality thread leaves a lot of lint in/on your machine and this accumulates in the machine causing problems. So be sure to "dust" around your bobbin casing to keep your machine in top working order and use good quality thread. This will insure that you will have a top quality product when you finish.
With Memorial Day and July 4th just around the corner, are you working on something patriotic for your table? We have Anthem Fat Quarters from Blank in reds, whites and blues. These fabrics are perfectly coordinated for you. There are 20 fat quarters in the bundle. And perfect for a table topper, table runner, or a small quilt project.
Our in-shop retreat is set for September 22nd & 23rd. We are limiting the number of people so that we can have more room to "spread out". So that said we only have a few spots left. We have so much fun and we'd love for you to be a part of this. If you are interested, come in a put down a deposit to hold your spot. We open the back door at 8:30 am on Friday and we sew until 9 pm. Saturday we sew from 9 am to 3 pm. We also have Show 'n' Tell on Saturday and on Friday we have "specials" just for the participants. Come and join us!
We will be closed on Saturday, May 27th for the Memorial Day Holiday weekend.
Check out our Facebook page and like and share. Thank you.