Newsletter - June 27, 2023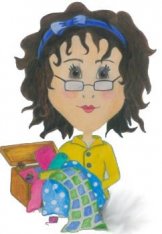 SHARYNN'S QUILT BOX
890 S. STATE STREET
P.O. BOX 1041
NORTH VERNON, IN 47265
812-346-4731
June 27, 2023
STORE HOURS:
CLOSED SUNDAY AND MONDAY
OPEN TUESDAY THRU FRIDAY 10-4
SATURDAY 10-2
NOTICE…………
We will be CLOSED beginning July 1st thru July 4th for the Holiday! We will reopen on July 5th at 10 a.m. Thank you for your continued business. Everyone please have a relaxing and safe holiday weekend.
We'll see you on the 5th.
We are doing a jig here at Sharynn's! Our Janome 3160s finally were delivered yesterday! We are so happy to get them. They have been on order for 6 months. These machines are so versatile and are one of our bestselling machines. This machine is only about 11 pounds, has a scissors, needle threader, and many more features you would find on a more expensive machine. This machine is great to take to class or a retreat or to sit 'n' sew! Come in and see for yourself.
UPCOMING…….
July 8th Sharynn's Stitching Friends at 9 a.m. here in our classroom. Be sure to join us and bring Show 'n' Tell.
Darrell will be out of the shop beginning July 7th thru July 18th. We will take machines in for service but please be aware that it will take him a while to catch up!
Are you new to sewing and want to learn some of the basics? Cathy and Barb will be teaching a Beginner to Intermediate Sewing Techniques Class. Class will be limited to 5 people. We will be making a small quilt. Next week we'll post more information.
NEW IN THE SHOP………
Christmas is in the air! We have received Moda's Christmas line..Holidays at Home and Blizzard! We also have Lavender Lime's Christmas Cheer pattern and the panel to go with it. We will be posting pictures on Facebook yet this week. Be sure to come in and check it all out. Now is the time to get started on those Holiday projects.
We also have some beautiful fall fabrics from Studio E that are new in the shop and several new panels.
Our In Store Retreat is full!! But if you are still interested, we can put your name on a wait list and if someone is unable to come we can call you. The dates are September 22nd & 23rd.
Darrell still has the Handi-Quilter Amara ST 20 on a very special deal. This machine is the perfect machine for someone who doesn't have a lot of room but wants a big machine. He is pricing it low!!! Come see it and remember that we won't be undersold and that we service in house what we sell. Darrell will set it up and teach you how to use it. So be sure to come in and "take it for a spin"!