Newsletter - July 5, 2023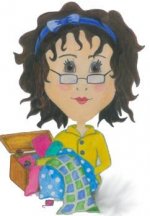 SHARYNN'S QUILT BOX
890 S. STATE STREET
P.O. BOX 1041
NORTH VERNON, IN 47265
812-346-4731
July 5, 2023
STORE HOURS:
CLOSED SUNDAY AND MONDAY
OPEN TUESDAY THRU FRIDAY 10-4
SATURDAY 10-2
We hope everyone had a very happy and safe 4th of July! We enjoyed our long weekend and we are ready to get back at it!
Getting right to it….Saturday, July 8th is our Sharynn's Stitching Friends Club meeting at 9 a.m. Be sure to bring Show 'n' Tell and we'll have all the new fabrics to preview for you!
Darrell & Sharynn will be out of the shop from July 7th to July 18th. We will still take machines in for service but please expect a delay. When you bring in a machine for service, please remember to have a foot, filled bobbin, & thread you use on the machine so that Darrell can test it. Please remember that we do not service Husqvarna, Viking, Bernina, Brother, Pfaff, or Baby Lock. Thank you for your understanding in this matter.
We have received new fabrics from Moda! These fabrics are very luscious in tones of light blue to dark blue and cream. We will be posting on Facebook soon. There are just so many possibilities!!
We have new Christmas fabrics from Moda also. We have the Holidays at Home line with a panel and a pattern from Lavender Lime. We love this simple but beautiful fabric. We also have the Blizzard line from Moda. We have posted pictures on Facebook so please check these out!
We have a full line of Studio E called Fall into Autumn. We also have the pattern to go with it by Coach House Designs. These beautiful fall fabrics in shades of orange, green, brown and rust will have ideas dancing in your head! There is a panel that makes up into a wonderful table runner or lap quilt. So come in early and get started on those projects.
Be sure to check our website and facebook page. Please like and share our posts.