Newsletter - July 25, 2023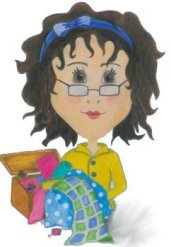 SHARYNN'S QUILT BOX
890 S. STATE STREET
P.O. BOX 1041
NORTH VERNON, IN 47265
812-346-4731
July 25, 2023
STORE HOURS:
OPEN TUESDAY THRU FRIDAY 10-4
SATURDAY 10-2
CLOSED SUNDAY AND MONDAY
We are into our last week of July. It's amazing how fast time is flying! Families are gearing up for kids going back to school, whether it's elementary, middle, high school or college. It's a time of change. Oh, we know that there is still lots of summer left but we are on the downhill slid to the holidays! There is still time to get started on projects and to finish them before the holidays. We have Fall fabrics in oranges, browns, rusts, greens and reds that would be beautiful in a table topper or runner. And we have Christmas fabrics from Moda in greens and reds and blacks and grays. These are a must see. Now is the time to get started on those projects.
Looking forward…Sharynn's Quilting Friends will meet on August 12th at 9 a.m. in the classroom. You can still sign up for the Challenge. We are very excited about this one!
Sit 'n' Sew dates for August are the 9th and 23rd. This is free to you. You can sew from 10:30 to 3 p.m.
SEPTEMBER: We will be closed on Saturday, September 2nd for a long Labor Day Weekend.
Please remember these guidelines when bringing in a machine for service…if your machine has a "stop/start" button there is no need to bring in the foot control or all the different feet. The A foot usually is all he will need. Things you need to bring in: filled bobbin and thread that you use. If it is an embroidery machine please bring in fabric and stabilizer in a small hoop with embroidery thread so that Darrell can test the embroidery after cleaning. If in doubt about what to bring or leave at home, please call ahead. Please remember that we don't service Husqvarna-Viking, Bernina, Brother, Baby-Lock, or Pfaff. Thank you for your understanding. And we only service Janome Sergers. We carry only genuine Janome parts and accessories.
We have some fun things in the works for September and October so be watching our newsletter and Facebook.