Skip Navigation
Website Accessibility
Newsletter - September 20, 2023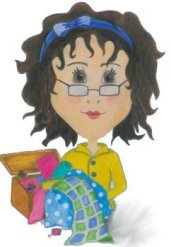 SHARYNN'S QUILT BOX
890 S. STATE STREET
P.O. BOX 1041
NORTH VERNON, IN 47265
812-346-4731
September 20, 2023
STORE HOURS:
OPEN TUESDAY THRU FRIDAY 10-4
SATURDAY 10-2
CLOSED SUNDAY AND MONDAY
We are fast approaching October. Amazing how fast the days and weeks are moving. It won't be long before the Holidays will be here. Are you ready? Have you got your projects started or are you just thinking about what you want to make? We have all the supplies that you will need to get those projects from start to finish in no time.
With that being said, we have decided to open our classroom for Sit 'n' Sew on Tuesdays, Wednesdays and Thursdays from 10 to 3. You are welcome to come and sew with us. There is no charge and we are happy to have you join us.
Please remember to keep your sewing machine in top shape it needs servicing at least once a year. We are an authorized Janome dealer and service all Janome machines. We carry only Janome parts. You do not need to schedule an appointment for service. Our turn-around time is usually 1-2 days. It is important to keep your machine in good running order.
We want to thank everyone who came to the Handi-Quilter Class and to the Jelly Roll Day Sew-In. It was so much to host these events for you.
We have our Annual In-House Retreat this Friday and Saturday and we are looking forward to sewing with you all. If you signed up and have any questions, please call the shop. The back door will open at 8:30 a.m. on Friday morning. Can't wait to see you all!
What's new in the shop…
We have received Odif's 505 Temporary Spray Adhesive for fabrics. This product is wonderful for fabric or enhancements in place before sewing. Can be used on most all types of fabric. We also have Aleene's Turbo Tacky Glue. Both of these are great products to help speed up your project.
We also have The Gypsy Quilter's Nook & Cranny Cleaning Tools. There are 4 small brushes to get in those tight places on your sewing machine. These help to keep your machine running in tip-top shape between professional cleanings.
Please check out our Facebook page and like and share our posts. You are the heart and soul of our small business.