Skip Navigation
Website Accessibility
Newsletter - October 3, 2023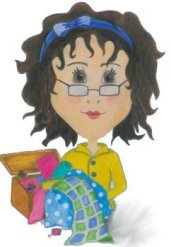 SHARYNN'S QUILT BOX
890 S. STATE STREET
P.O. BOX 1041
NORTH VERNON, IN 47265
812-346-4731
October 3, 2024
STORE HOURS:
OPEN TUESDAY THRU FRIDAY 10-4
SATURDAY 10-2
CLOSED SUNDAY AND MONDAY
It's October!! How did this happen?!! I'm still in summer mode! Not ready for the colder weather. This will probably knock you down…..Christmas is 12 weeks away!! And I'm not even ready for Fall!! Are you working on Holiday projects? Need more time to work on them? Well, we can't add time to your day but we can help you GET more time to work on those projects. We have opened our classroom on Tuesdays, Wednesdays, & Thursdays from 10-3 for Sit 'n' Sew. No one will bother you and you can work on those projects with no interruptions! There is no charge for this and you can "brown bag" your lunch or take a break and go out. Come and join us!
ATTENTION HANDI-QUILTERS:
The new MOXIE is here!! We just received the all new Handi Quilter 18"MOXIE XL Long Arm Machine. The Moxie XL from Handi Quilter has the same easy-to- learn and oh-so-fun to use experience as the original Moxie, but with new features to help you finish your own quilts faster and with an incredibly smooth stitching experience. Get to quilting quickly with straightforward features, easy-to-use controls, and 18 inches of throat space to get creative. Practical features like bright lighting and touchscreen controls make this simple, spunky longarm the perfect quilting machine to customize and make your own. We should have it set up and ready for DEMO this week!
Our long awaited order for Janome 4120s and 3160s finally came in! These machines are in high demand as they are small but mighty workhorses. At just 12 pounds, they are very easy to take anywhere you want to go! They have features like more expensive machines have.
The Janome 3160 has 60 stitches, built in needle threader, lock stitch capability, stop/start button and many more features. It comes with the quilting attachment kit (which includes a walking foot, open toe darning foot, cloth guide and other features). Also included is an extension table and hard cover for the machine. This is a great beginner machine!
The Janome 4120 is also 12 pounds and has 120 stitches with twin needle functionality, programmable stitch pattern combinations and this is only a few of the features. This machine also comes with an extension table and hard cover.
These machines are great for classes, retreats and taking on vacation! Come get yours now. We will teach you to use the machine and we do all our own servicing. Machines are not sent out to be cleaned or repaired. Darrell has been factory trained to service all Janome machines.
Continental M17
Janome is proud to introduce the Next Generation Combo machine. Combining the top features of our most decorated machines to maximize your creative potential. The largest sewing area in the industry matched the largest embroidery space. High-Definition Quilting, and the Fastest Sewing speeds, are just a few of the 100 reasons to love this new model. The 10" High-definition color touch screen, plus ergonomically located line of sight screen, make stitch changes and embroidery easy and enjoyable. Introducing new features such as the Thumbwheel function means you can delicately control the needle position to finish those intricate sewing projects.
Over 1,200 built-in embroidery designs and the largest embroidery hoop in the industry at 30" opens up a whole new world of design capabilities. Five included embroidery hoops to use with built-in programs from monogramming to sashiko and everything in between. Janome original features such as AcuFeed, QuiltBlockAdvisor, and Artistic Digitizer are included. Let the Continental M17 take you to the highest level of your creative abilities.
Sharynn is offering huge discounts on all the Janome Machines. Including the Continental M17.
Sharynn's Stitching Friends will meet on October 14th at 9 a.m. here in our classroom. We will have refreshments and don't forget Show 'n' Tell! We love to see what you are working on. It doesn't have to be finished. Hope to see you then!
Check out our Facebook page for all the latest! Please like and share our page with your quilty friends!!